| | |
| --- | --- |
| Posted by Tanya on October 18, 2013 at 1:30 AM | |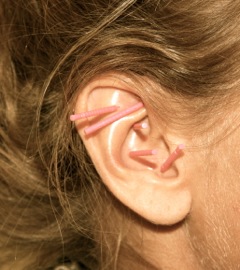 AcuDetox / NADA Protocol
The National Acupuncture Detoxification Association (NADA) protocol takes place in a group setting. It consists of the insertion of small acupuncture needles into five points on the outer surface of a person's ear (auricular acupuncture). The needles remain inserted for 30-45 minutes. Acudetox can reduce the symptoms associated with addiction recovery including withdrawal symptoms, cravings, and anxiety. Other chronic stress conditions such as PTSD, depression and anxiety have also responded favorably.
A brief history of NADA 

• In 1973, H.L.Wen, MD discovered that acupuncture delivered at certain points on the ear relieved opiate withdrawal symptoms as well as post surgical pain. Doctor Wen published these results in the Asian Journal of Medicine. Acupuncture for addiction was primarily developed in the 1970's at Lincoln Hospital in South Bronx, New York, as part of a methadone detoxification program. After receiving acupuncture treatment the patients in the program reported being more relaxed and less depressed. The use of acupuncture resulted in an overall reduction of withdrawal symptoms. 


• In 1974 Doctor Michael Smith, psychiatrist and medical director of the Lincoln Hospital Detox program, began working with the acupuncture clinic. It was discovered that manual insertion and manipulation of needles was more effective than electric stimulation. The daily use of acupuncture with addicted patients resulted in a reduced need for alcohol and heroin.
• In 1978 acupuncture replaced methadone as part of the detoxification program at Lincoln Hospital. 

• In 1985 the National Acupuncture Detoxification Association (NADA) was founded by Doctor Smith and others to continue education and training of the NADA protocol.
Why is NADA Important?
"If how you respond makes you stronger when you face the stresses of life, Acudetox offers this rapid fundamental change within.. Humans are not naturally equipped to respond to life with spontaneity, flexibility, and resilience - so learning and integrating these traits can take years of Psychotherapy. Treatment with medications never evolves these qualities. If we have these qualities, its because we've learned them. Something pushed on us and through trial and error we pushed back until one time it worked. This is how NADA protocol/Acudetox and rapid fundamental change works." ~Dr Bailey
Where has NADA Currently Visited?
NADA protocol was offered to 9/11 survivors and emergency personnel from 2001-2007; post hurricane Rita, Katrina; military stress recovery; currently The Alberta floods – set up in Calgary & High River, in the treatment of PTSD, Anxiety Disorders, and depression.
Categories: TCM (Traditional Chinese Medicine), Emotions