| | |
| --- | --- |
| Posted by Tanya on June 8, 2012 at 1:30 AM | |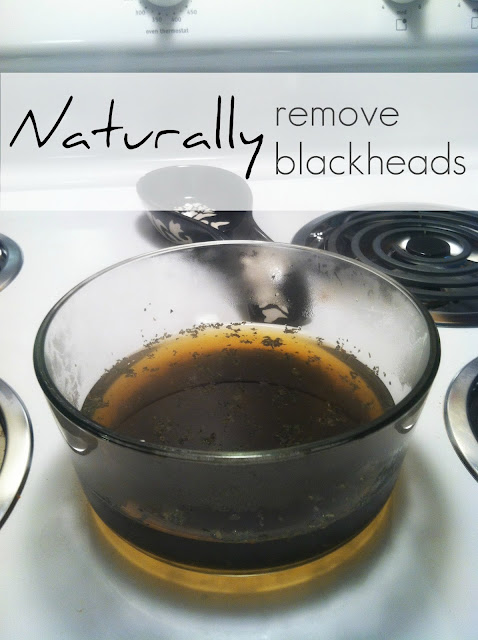 Since pregnancy and into my 30s (shhhhh..its just our little secret), I've discovered quite a few more blackheads appearing over the bridge of the nose, chin and cheeks. After trying many pricey facials, I've decided try a home remedy that is natural and truly works:
Here's what you'll need:
2 cups of water
5-8 drops of Lavender Oil
Handful of Basil (Fresh or Dried)
Baking Soda
Here's what you'll need to do:
Step 1: Take 2 cups of water, Lavender oil, and basil, and pop them into a pot on the stove
Step 2: Turn stove on to medium and bring the mixture to a boil for 5-6 minutes
Step 3: Once mixture has boiled, pull off burner and pour into a bowl
Step 4: Pull back your hair (I usually use a bandanna, or head band), then place face over bowl letting the steam absorb into your face. Do this for about 10 minutes.
Step 5: Using the baking soda, and a tid bit of water, make a paste. Massage into skin. Let it dry.
Step 6: To wash baking soda off, I use cool water. Your skin will feel soft and yummy! Bye-bye blackheads!
I would commit to doing this once a week. Consistency will help diminish the amount of blackheads you have! WooHoo!
Lets talk ingredients
Lavender Oil
Lavender oil is great for clogged pores. It is a natural muscle relaxer, soothing agent, conditioner, and astringent. So not only, when you are doing the steam, does it smell great, but you are also absorbing all of active nutrients that come out of the oils, and penetrate your skin and pores.
Basil
The medicinal herb is especially great for acne problems because it has powerful ant-viral anti-inflammitory and antibacterial properties to it.
Baking Soda
Baking soda has been found to be an amazing natural non-abrasive skin exfoliant! When you by exfoliants at the store, they contain harsh chemicals (Alpha Hydroxy Acid) that are used renew the layer of skin, by burning off the old one. Baking soda is a physical exfoliant, that instead of doing harm, it actually physically scrubs off the excess skin cells and dirt that is accumulating.
Categories: Nutrition & Whole Food Healing, Facial Rejuvenation, TCM (Traditional Chinese Medicine)